Map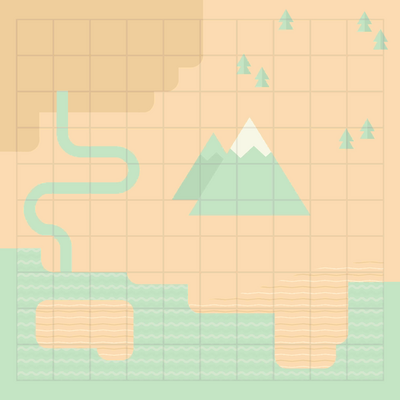 The quarry is a location run by

Lloid where a player can break rocks to find rare minerals and gems. These are then converted into bells and/or materials depending on the featured reward (which ranges from Essences to Craft Materials to only Bells). The featured reward is displayed over the quarry on the map and changes every 12 hours.
Accessing the Quarry
[
]
There are two methods to access the quarry:
Requesting and receiving help from at least 5 friends (Available once daily)
Spending 20 Leaf Tickets (Available three times daily)
Lending a Hand
[
]
When a friend requests help from you to access the quarry, a shovel icon will appear on your social tab, and "Mind helping me out?" will appear above them on your friends list. Pressing the shovel button will contribute to their quarry entry, and after a friend has entered the quarry, all friends who have lent a hand will receive 1
Friend Powder.
Inside the Quarry
[
]
Inside the quarry, a player is put into a field of several rocks. A player is given a chance to break rocks which will then reveal a mineral. After five rocks, all the minerals will be totaled and

Lloid will give the player their reward.
Possible Minerals
[
]
These are the following minerals that can show up in the Quarry:
Gold Nugget
Silver Nugget
Sapphire
Ruby
Reward Calculations
[
]
The following table shows the reward each mineral gives for each featured reward. 'Special Appearance' rewards only appear during special events.
Note: The game determines the minerals given before the player enters, so they will receive the same reward no matter which rocks are broken.
Reward
Mineral Name
Mineral Bell Reward
Mineral Item Reward
Steel
Wood
Cotton
Paper
Preserves
Gold Nugget
3,000 Bells
20 Material
Silver Nugget
1,500 Bells
10 Material
Sapphire
500 Bells
5 Material
Ruby
1,000 Bells
3 Material
Essence
Gold Nugget
3,000 Bells
10 Essence
Silver Nugget
1,500 Bells
5 Essence
Sapphire
500 Bells
2 Essence
Ruby
1,000 Bells
1 Essence
Bells
Gold Nugget
30,000 Bells
-
Silver Nugget
10,000 Bells
-
Sapphire
Ruby
3,000 Bells
-
Sparkle Stones
Gold Nugget
10,000 Bells
2 Sparkle Stones
Silver Nugget
5,000 Bells
1 Sparkle Stone
Sapphire
Ruby
2,000 Bells
-
Special Appearance
Gyroidites
Gold Nugget
5,000 Bells
10 Gyroidites
Silver Nugget
2,000 Bells
6 Gyroidites
Sapphire
Ruby
Does not appear.
Reissue Material
Gold Nugget
3,000 Bells
5 Material
Silver Nugget
1,500 Bells
2 Material
Sapphire
Ruby
Does not appear.