Map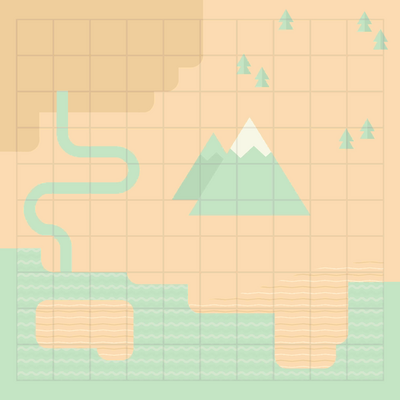 The map allows a player to access and navigate to various locations in the game.
Locations
[
]
Click a location for more details.
Player Managed Areas
[
]
| Location Name | Description |
| --- | --- |
| Campsite | This is the player's personal campsite to manage. A player can decorate the campsite, build amenities, invite villagers, and more. |
| Cabin | An indoor area similar to the campsite that can be customized with furniture and host up to eight villagers. |
Recreation Spots
[
]
These are recreation spots that animals may visit. A player can also obtain collectible items such as bugs, fruit, or fish in these locations. The locations are as follows:
Other Locations
[
]
| Location Name | Description |
| --- | --- |
| Market Place | Use Bells to purchase clothes from the Able Sisters and Kicks as well as exclusive furniture from Timmy and Tommy. Isabelle is also located at the Market Place with access to the Common Questions and Beginner's Guide. |
| OK Motors | Use Bells or Leaf Tickets to have Giovanni, Carlo, and Beppe apply paint jobs or patterns to the camper, or upgrade the size of your camper for a small loan. |
| Shovelstrike Quarry | Run by Lloid, a player can access the quarry once daily by asking 5+ friends for help or pay 20 tickets to access the quarry three times daily. In the quarry, a player can break five rocks where they will find Silver Nuggets, Gold Nuggets, Rubies, and/or Sapphires. This will be converted into Bells and/or materials. |
| Happy Homeroom | In Happy Homeroom classes, you'll use the furniture you have to practice your interior design skills! Your finished designs will be judged by Lottie and others. If you pass Happy Homeroom classes, your HH Rank will increase! As you rank up, you'll get items like the HH Material and more! |
Services
[
]
Blathers's Treasure Trek

[

]
Use maps you get from completing animal requests, as well as from opening balloon presents and Gulliver's Cargo Ship, to send
Blathers on a trek for treasure! Roll the die using Bells or craft materials, and Blathers will move the number of spaces you roll. Depending on the space he lands on, you might get items, new animal friends, and more! The animals you meet can be called to your campsite or cabin! You can also use Leaf Tickets to get all the items on the map using the Instantly Clear the Map feature! Maps found with Gulliver's Cargo Ship allow you to meet new animals!
See Blathers's Treasure Trek for more details.
Pete's Parcel Service

[

]
Available starting at level 3. Complete animal requests faster with Pete's Parcel Service! Pete will deliver the requested items straight to your visiting campers, without the need to visit them.
See Update for more details.
Fortune Cookie Stand

[

]
Also accessible from Market Place.
A shortcut to

Tommy's Fortune Cookie shop. The icon on your map will glow if there's something special on sale!
See Fortune Cookie Shop for more details.
Gulliver's Ship

[

]
Also accessible from Sunburst Island.

Gulliver will load your extra items onto his cargo ship. Once it's full, Gulliver's ship will set sail. When the ship returns, you can get snacks as souvenirs. Sometimes, Gulliver might even bring some new animals back with him...
See Gulliver's Ship for more details.