Gyroidite Scavenger Hunt 7 On Now! (Jan. 11, 2019)
---
Gyroidite Scavenger Hunt 7 is on now! This time you'll be hunting
Snow-Park Gyroidite!

Gather the cute little
Snow-Park Gyroidite nuggets that are scattered around the map.

Once you've collected enough snow-park gyroidite, you can use them to craft clothes and furniture that will help you look sharp during these cold winter days!

Check out all your animal friends as they glide across the ice!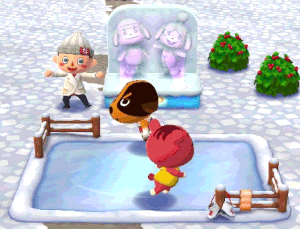 ■ Gyroidite Scavenger Hunt 7 Furniture

■ Gyroidite Scavenger Hunt 7 Clothing

Note:

Leaf Tickets are required to craft the
Nightlight Ice Rink B,
Red Snowy Sweater, and the
Snowflake Knit Cap.

Right now you can get
Snowballs or

Leaf Tickets by completing Chilly Jamboree Goals!

■ Notes on Gyroidite Scavenger Hunt #7
The spawn rate of snow-park gyroidite has been adjusted.
Event Schedule
From Jan. 11, 2019 at 6:00 a.m. (UTC) to Jan. 22, 2019 at 5:59 a.m. (UTC)
New Craft Material at the Quarry
It's also a great time to visit Shovelstrike Quarry! Until the end of the Gyroidite Scavenger Hunt event, you can collect
Snow-Park Gyroidite when you mine the quarry! Collect enough before the event is over, and you can craft special clothing and furniture.

Note: You can only get snow-park gyroidite from the quarry when the snow-park gyroidite icon is displayed above the quarry on the map.
Limited-Time Pack
The Gyroidite-Jammed Pack is available for purchase. For more information, check here for details!

Gyroidite-Jammed Pack Available Now!
notice.
Notes
The event items cannot be crafted after the event ends.
Event items that you begin crafting during the event can be collected after the event ends.
Limited-time items may become available again in the future.
You will only be able to clear Event Goals and claim your rewards while the event is active.
The snowballs are items required to complete Chilly Jamboree Goals during the Chilly Jamboree seasonal event. They cannot be carried over into the next seasonal event.
The event goals related to snow-park gyroidite have Collect and Craft goals. The Craft goals are on page 5.

Note: The following snow-park gyroidite will count towards the event goals:
Number you pick up on the map.
Number you receive from Shovelstrike Quarry.
Number you receive as gifts from your animal friends at your campsite.
Number you receive as a bonus for purchasing the Gyroidite-Jammed Pack.
---
Posted: January 11, 2019 at 6:00 AM
Source: https://support.ac-pocketcamp.com/en-GB/public_announcements/ANNOUNCEMENT_1901112?country=AU